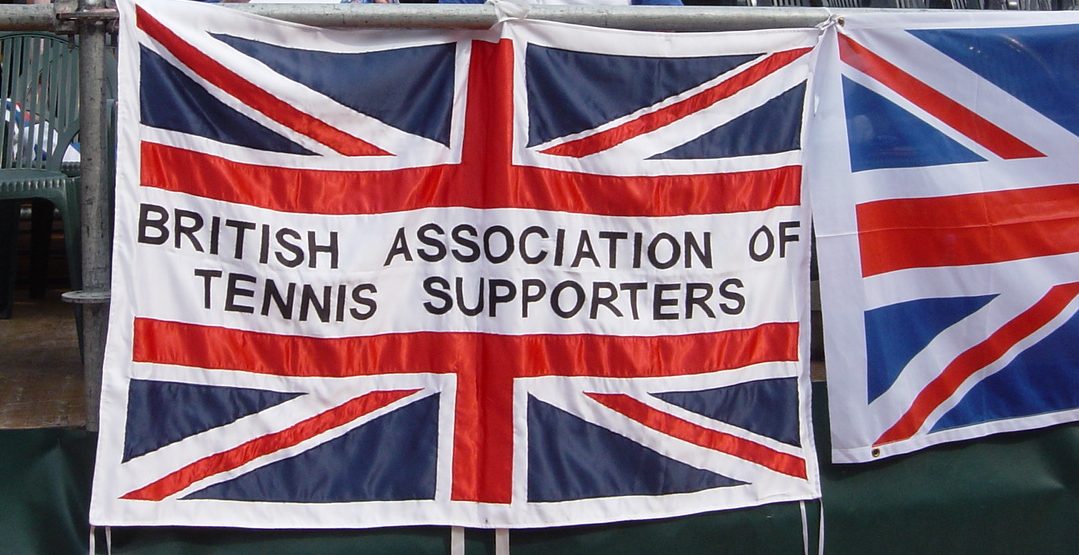 During the return flight from the Davis Cup Final in 1978 which Great Britain lost 4-1 to the USA, it was suggested that a British tennis supporters club should be formed. The idea was enthusiastically received and several of the players and journalists on the plane were amongst the founder members. The British Association of Tennis Supporters was born in early 1979 and it soon became known as BATS.
We are a group of supporters of British tennis from all around Britain who regularly attend Davis Cup ties at home and abroad and who follow British tennis players at British and overseas tournaments.
In recent years, a group of members have travelled to Umag, San Diego, Naples, Ghent, Rouen, Marbella and Madrid to cheer on the team. We generally arrange our own flights and accommodation and several of us stay in the same hotel. Whether or not it is a tough match and the tennis is successful, we always enjoy ourselves and sample the local food! When the ties are at home, we have a large group of members travelling the shorter distance to support the Great Britain team. Tickets are sold out very quickly, but we have close contacts with the LTA and are able to secure the tickets we need for home ties (numbers are generally restricted for away ties).
Since 2012 we have travelled to Constanta, Romania, Japan, Eilat, Budapest, Tallinn and Bratislava to support the Fed Cup team and plan to support the team in future years.
In addition, we have recently arranged BATS members trips to the US Open and ATP tournaments including Valencia, Barcelona, Rome, Madrid and Rotterdam.
Our AGM and Annual Dinner takes place in March at the Hampshire Court Hotel in Basingstoke. After the AGM in the morning, we enjoy a friendly tennis tournament in the afternoon followed by the dinner in the evening.
Last year we had a special celebration for our 40th anniversary and were joined by special guests, David Rawlinson, current LTA President and his wife, former LTA President, Cathy Sabin and her husband as well as our Patron, Peter Norfolk.
We have a small allocation of Wimbledon tickets from the All England Club every year including the Ladies Final and these are included in a ballot for members at the Annual Dinner.
We send out email updates detailing the latest rankings for the top British players, where they are playing that week and information about tickets for events and BATS trips.
If you join and come along to one of our events you can be sure of a friendly welcome – we have members of all ages.
In 2020 we reintroduced a very small annual subscription of £5 per person. Therefore, please contact our membership secretary for further details by clicking on the link below.
Anyone interested, please contact us.
Mary Pope
Chairman, BATS