Wow, wow and wow again!!
Match score: USA 0 GB 2
The scene was set for the match in Petco Park in San Diego. The teams marched out after their flags and the anthems were sung.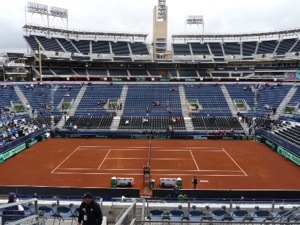 We enjoyed some banter with the locals and a few photos were taken. It was great to see Rod Laver take part in the coin toss for the first match which was a Davis Cup debut for Donald Young. After Andy Murray was taken to deuce in his first service game, he was pretty ruthless in winning 6-1 6-2 6-3. Young made too many mistakes including many double faults.
No surprises there then and the way the Querry v Ward match started it looked like that would go to form as well. However James Ward hung in there in the second set and managed to take the tiebreak. The third set went to Querry who went a break up early in the fourth set and it again looked like a US win but Ward was not lying down. After breaking back for 4 all, Ward broke again to win the set and, amazingly, raced to a 4-0 lead. He was pegged back to 4-1 when he lost his serve but then broke yet again and served it out. The final score was 1-6 7-6 3-6 6-4 6-1. It was quite extraordinary and I don't think the US fans knew what to make of it. All the GB fans had a great time and the BATS members were making plenty of noise cheering the team. James Ward played really well at times with lots of confidence and his drop shot was quite exquisite!
The arena is quite big and was by no means full today. Presumably the locals were working and will fill the place tomorrow for the doubles. The weather today was not great as it was mostly cloudy with only the occasional glimpse of the sun and just a few drops of rain. The crowd was quite normal for the US – they came in and out a lot and there was a lack of proper stewarding. Also for much of the time there was a blue haze in front of us, being the smoke from the burger stands whose smell also wafted in our direction.
Tomorrow it's the doubles and Colin Fleming & Andy Murray are scheduled to play the Bryan brothers. Leon Smith could decide to replace Andy with Dom Inglot in the morning if he wants to save Andy for the singles or Andy has any ill effects from today (most unlikely).