Cast your mind back to 2010 and you'll probably recall a low point in British tennis history. Great Britain's 2-3 loss to Lithuania in the Europe/Africa Zone Group II first-round left us staring at life in the bottom rung of the competition and an unenviable relegation play-off against Turkey in Eastbourne four months later.
As I sat pondering on this before the final, I couldn't quite believe it was just five years ago. Britain would of course go on to win that tie in Eastbourne 5-0, and with it they would kick-start Britain's remarkable climb up the Davis Cup ladder to the point we now found ourselves in – a final against Belgium and the chance to win the Davis Cup for the first time in 79 years.
Could we take that final step and bring home the trophy?
As I headed to the Belgian city of Ghent, I'll admit that I felt a little anxious about the tie. Whilst we were the favourites on paper, re-writing the history books certainly wouldn't be easy.
Adding to the tension was the on-going security situation in Brussels, a city that's less than 40 miles away from the venue. In the days before the final there were even question marks over whether the tie would actually go ahead.
Upon arriving in Ghent I immediately laid to rest any concerns I had. This city is really something special, with beautiful canals and walkways set against stunning medieval architecture. It's truly a hidden gem, and although there was heightened security for the tie, the truth is that nobody gave it much thought once we were there.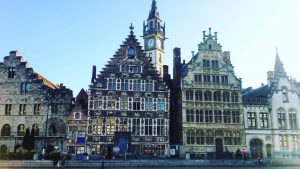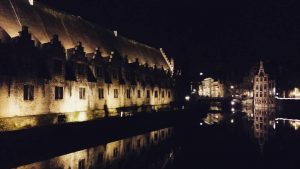 Onto the Friday and it was time for the final to get underway. The sense of excitement and anticipation amongst everyone inside the Flanders Expo was huge, and I can't ever recall experiencing such a raucous atmosphere inside a tennis arena. Davis Cup ties are always noisy, but this was something else.
The first match saw Kyle Edmund taking on David Goffin. Facing the Belgian no.1 was always going to be difficult, however Kyle played a quite unbelievable match and really pushed the world no.16 to the limit.
Despite Goffin ultimately coming through 3-6 1-6 6-2 6-1 6-0, the man from East Yorkshire certainly showed what he is capable of and displayed more than a few signs that he could go on to be a great player. The first two sets in particular were a prime showcase of his effective brand of heavy-hitting tennis.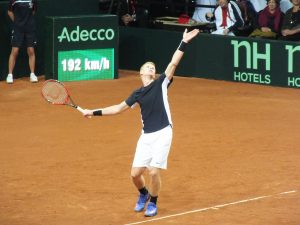 The second singles match placed Andy Murray against Ruben Bemelmans. Andy was always a massive favourite to win this match and so it proved. He took it comfortably, winning 6-3 6-2 7-5 to level the final at 1-1.
In any Davis Cup tie there is always an added amount of tension before the crucial doubles rubber – and this occasion was certainly no different. The situation staring back at us was simple: Clinch the doubles and Britain looked like heavy favourites to take home the trophy. Lose it and the Belgians would be in prime position.
Andy and Jamie Murray once again teamed up to take on Steve Darcis and David Goffin. Whilst the Murrays were favourites to come through, everyone inside the stadium knew that the Belgian pair would be no pushovers.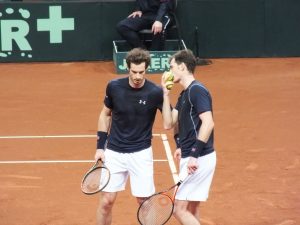 The early stages of the match were indeed extremely tight, with the first nine games going with serve as both teams settled into a comfortable rhythm.
It would be Britain however who would strike the first blow, with Andy and Jamie clinching their first break point of the entire match to take down Goffin and grab the first set 6-4.
Early momentum in the second set went the way of Darcis and Goffin, with Jamie being broken in the fourth game to leave GB trailing 1-3. The Belgian pair would go on to hold serve and take the set 6-4 to level up the match at one set apiece. As expected, this wasn't going to be easy!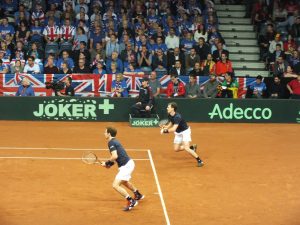 Onto the third set and the tension increased once more as Jamie was again broken in the early stages. But this time it was different: the British pair fought back beautifully, breaking twice in a row to go 4-2 up, before clinching the set 6-3.
The Murray brothers now had all the momentum and broke Belgium again early in the fourth to take a 3-1 lead. With Jamie serving at 5-2, a wayward return from Darcis sealed the victory for Britain and put us 2-1 ahead in the tie.
We were now just one win away from history – and so it was down to Andy Murray to beat David Goffin and win the Davis Cup for Great Britain!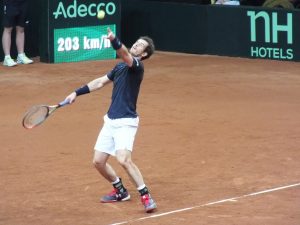 After a tight start, Murray broke Goffin to go 4-2 ahead and put the first set within touching distance. He would hold on from there with ease, eventually taking it 6-3.
The second set proved to be equally tight, with both players holding serve relatively comfortably. The crucial breakthrough arrived in the eleventh game, with Murray breaking Goffin to edge 6-5 ahead. He clinched the set in the next game with a stunning crosscourt winner.
Despite an early setback in the third, Murray instantly rallied to level up at 2-2, before breaking Goffin again a few games later to go 4-3 and then 5-3 ahead. Just one more game!
With Goffin serving to stay in the match, Andy really applied the pressure and a few points later found himself at match point.
The final point of the match is one that is sure to live long in the memory of any British fan, and not just because it was the moment Great Britain finally won the Davis Cup. This was a truly spectacular rally that summed up everything that's so great about Andy Murray: his total determination to win, and his amazing natural ability to outfox his opponents with wonderful feel and intelligent shot making. This was Andy at his very best, and winning it with that amazing lob just somehow seemed so fitting. Even Andy himself couldn't quite believe it.
We had done it – and you could really see what it meant to everyone involved. The crowd went wild!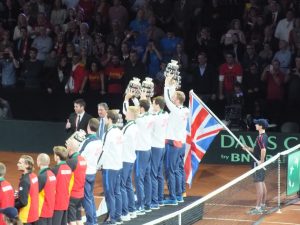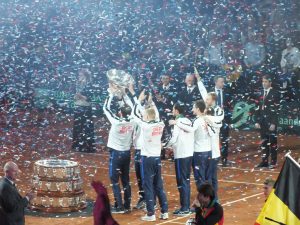 The Davis Cup is of course a team competition, and whilst Andy is certainly the star of the show, great credit should go to the whole team for what they have achieved over the last five years. Players including Jamie Murray, James Ward, Dan Evans, Dom Inglot and Colin Fleming have all played their part in getting us here. We also shouldn't forget the support team, who have played an invaluable role in the success.
Special mention should of course go to Leon Smith. He is the man who has brought the team together and rescued us from the dire position we were in when he took over as Captain in 2010. He has brought passion, belief and determination to the team, whilst he has continually displayed a wonderful aptitude for great strategy and decision-making.
So what's next for Great Britain?
A home tie against Japan in March sees GB start the defence of the title – but for now let's just enjoy this magnificent victory and hope that it inspires many more youngsters to pick up a tennis racquet and start playing this wonderful game.
Congratulations to the whole team! It was an absolute privilege to witness this truly historic moment – and it will certainly live long in the memory of all British fans.
By Daniel Flower