Emirates Arena – Glasgow
This new venue became home for a capacity crowd of 7,700 for the three days.
On the Friday, Andy opened the singles with a win against Donald Young 6-1; 6-1; 4-6; 6-2. He looked in no trouble despite dropping the third set.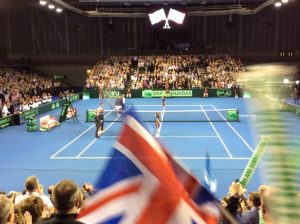 In the second singles James Ward took on the big serving John Isner. At first Ward was unable to cope with the big serve of Isner, however he was serving well and only narrowly lost the first two sets 6-7; 5-7. He then managed a break to take the third set 6-3 – game on and the fourth set tie-break 7-6 (7-4) so all to play for. The fifth set (no tie-breaks) went all the way to an amazing win for Ward 15-13! Ward ranking 111 and Isner 20 – what a win – the noise nearly took the roof off. Isner said of his defeat by Ward "This one's on me, my loss on Friday put us in a big hole".
The Saturday saw the doubles with Dom Inglot and Jamie Murray v Bob Bryan and Mike Bryan – the world-ranked No. 1 doubles pair! All looked over after set 2 with USA 6-3; 6-2 but the Brits fought back and took the third set 6-3 and forced a tie-break fourth taking it 7-6 (10-8). So all down to the fifth final set which went to USA 9-7 after a couple of missed volleys by the Brits.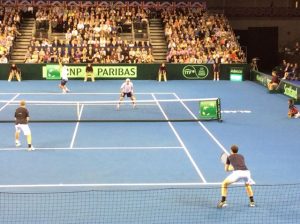 The Sunday saw Andy take on Isner. Isner knowing he had no chance of out-rallying Murray from the baseline, threw caution to the wind and hit winners with power and accuracy giving Murray no chance of reaching the ball. Isner hit 28 aces, including six in one game and did not face a break point for the first hour and a half. He forced seven break points of his own in the first set but Murray defended all including three set points. When it came to the tie-break only one point went against serve, Isner double-faulting on the first point. It was his only double fault of the whole match. Murray went forward to take the set 7-4. Murray took the second set 6-3 and, in the third set tie-break, Murray never trailed after drawing level at 1-1 and took it 7-4 and the tie.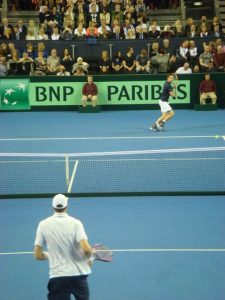 Ward played the dead rubber against Young but after taking the first set 7-5 had to retire with an injury.
Murray said "There is a real synergy within the British team. It gives you that extra incentive to perform and go out there to fight for every point. I was very emotional all week-end."
Quarter-finals 17-19th July GB v France. Home for us – venue?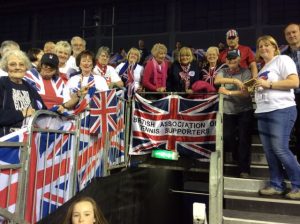 Excellent support this time from BATS members with over 130 members attending – great!