"IF you can meet with Triumph and Disaster and treat those two impostors just the same."
These are the famous words written by Rudyard Kipling, which greet every competitor as they walk out onto Centre Court at Wimbledon.
Elena ("Bally" to her friends, family and fans)  may as well have written these words herself, because this is exactly what she did. She never made excuses for herself. If she lost a match, she simply picked herself up and tackled the next one head on. "Feisty" is a pretty accurate description of someone who had the determination and the desire to achieve her potential.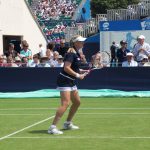 It was the same away from the court. Bally had more than her fair share of illness and injury in her career, but she never once complained about it. If anything, she was a prime example of an athlete who managed their condition (a chronic liver condition 'primary sclerosing cholangitis') and did not let it dictate. If there was anyone who expected her to fade away into tennis obscurity after yet another set-back, then they were in for a big disappointment.
Bally did not know the meaning of "give up". She took everything she had into every match and always gave her opponent plenty to think about. She thrived on the home crowd support, the more Union Jacks around the court, the better. The more noise the crowd made, the better she played.
Bally's loyalty to her country won her many fans. She represented Great Britain in the Fed Cup and at the last tie, early in 2014, she was on the bench as chief cheerleader, despite being unable to play. At the Commonwealth Games, she had represented Scotland, but her finest achievement and proudest moment was when she was selected for the London 2012 Olympic Games, [to follow in the footsteps of her mother, Olga, who competed for the (former) Soviet Union, in Pentathlon and Heptathlon.]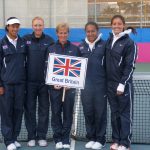 The 2012 Olympic tournament was held at Wimbledon on the grass, where Bally had had some of her finest victories. She reached the second round in London.
In 2010 Bally reached No 49 in the World, achieving her goal to break into the top 50. She retired from the game in November 2013 to concentrate on building her Academy with Nino Severino.
The Elena Baltacha Academy of Tennis (in Ipswich) was established by Bally and Nino, to help girls from deprived areas learn the game. It is testament to Bally's drive, enthusiasm and sheer love of Tennis. It is also Bally's legacy, her own way of ensuring that others less fortunate than herself, have the opportunity to play and excel in the game that she loved.
In November 2013, Bally and Nino married, and Bally retired from competitive tennis to concentrate on the Academy. In March 2014 came the announcement that Bally had liver cancer. She died at home in the early hours of May 4th 2014. She was 30.
By Jo Bartholomew on behalf of BATS (British Association of Tennis Supporters)  May 10th 2014.