To many people 'dirt' has negative connotations- foul, filthy and unclean. Tennis fans view 'the dirt' differently. The crushed bricks that make the red clay surface (let's forget Madrid's blue experiment) signify the second phase of the tennis season, the climax of which is the second Grand Slam of the year- Roland Garros.
Clay has not always been kind to British players, although Andy Murray's recent success is a welcome change. To British tennis fans, however, Roland Garros is not only important because it is a Grand Slam but because the second week also signifies the beginning of the grass court swing and the opportunity for young British talent to take advantage of wildcards.
Circumstances permitting, I try to visit Roland Garros every year. For those of you who have not visited, I would encourage you to do so. It lacks the tradition and quirks of Wimbledon but is nonetheless enjoyable in a different way, particularly as tickets are easier to purchase and there is much more seating available for the outside courts.
Whichever tournament I visit, I always try to watch our British players. Imagine my delight, therefore, when it became apparent that Monday 25th May would see five, yes FIVE, Brits compete in the main draw. Unfortunately, that delight was short lived when the schedule was released and four players were scheduled to be fourth on court. All being well, Aljaz Bedene would get my support early afternoon but I was going to have to make a difficult choice thereafter. Murray was out of the equation as he was playing on Chatrier which left Watson, Konta and Edmund in the mix. Having followed Kyle Edmund's progress closely over the past few years, I decided that I would spend the latter part of the day on Court 7 for his match against Stephane Robert.
I started the day by positioning myself on Court 6 to watch Feliciano Lopez (11) v Teymuraz Gabashvili, which proved to be the upset of the day. Lopez has always struggled on clay in comparison to his Spanish compatriots and was unable to play his natural game which is more suited to the grass. Gabashvili totally out-powered Lopez and won the match 6-3 7-6(9) 6-3.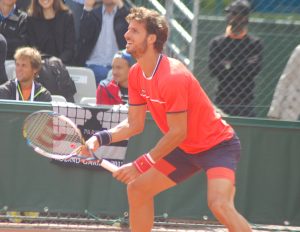 Feliciano Lopez
Teymuraz Gabashvili
Unfortunately, the Bedene v Thiem match had already started by this time and Bedene was down by two sets. I decided that rather than spend my time queuing for entry to that court that I would take a break and queue for a decent position on Court 7 in preparation for the Edmund match. Whether you've visited Roland Garros or simply watched on your television, you will know that the French like to get behind their players. The key, therefore, was to get a seat during the previous match which was Sara Errani v Alison Riske. Riske pushed Errani to a third set before the former finalist prevailed 7-6(1) 2-6 6-0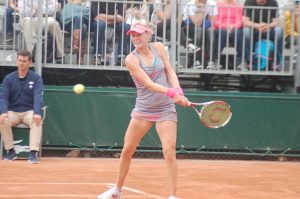 Alison Riske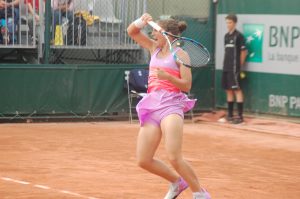 Sara Errani
And then it was time. The previously placid Court 7 turned into a raucous cacophony of sound as the French packed the stands to support their man. Cries of 'Robert, Robert' greeted Stephane Robert as he stepped on court. Support for Kyle Edmund was significantly less, with approximately half a dozen Brits scattered across the stands. Robert gave the crowd what they wanted in the first set, taking it 6-2. Edmund seemed to be rushing points and missing the lines with wild shots. By the second set, however, Edmund had settled into his game and, consequently, grew in confidence. Some solid serving and excellent forehand winners saw Edmund take it 6-4. Edmund battled against the French crowd admirably to continue his success, taking the third set 6-3. Robert, however, battled back and took the fourth set 7-5.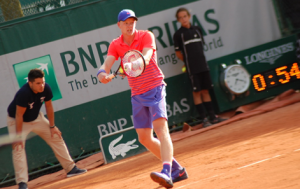 Kyle Edmund
At this point Edmund 'did a Murray' and took a bathroom break, much to the annoyance of the French crowd who booed him on his return. By this point, however, the British support had increased with presence of a certain A. Murray in the stands showing his support.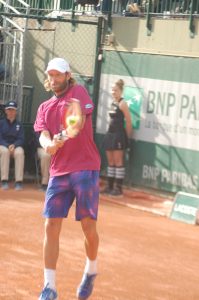 Stephane Robert
The break seemed to do the Brit good as he raced to a 4-0 lead and eventually won the match 6-2 in the fifth. It was a composed first Grand Slam win for Edmund who battled the crowd and cramp to reach the second round. It was very disappointing, therefore, that he was forced to pull out of a potential thriller against Kyrgios due to an abdominal injury but being fully healthy for the grass court swing takes priority.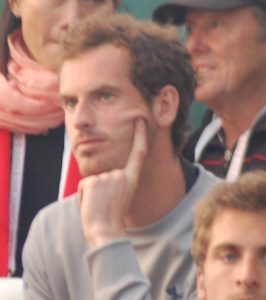 Andy Murray supporting Edmund
My second and final day at the tennis only involved one match with British interest. Colin Fleming and Jonny Marray were up against Feliciano Lopez and Max Mirnyi. The British duo started well, breaking Mirnyi's usually solid serve and taking the first set 6-3. Unfortunately, thereafter they failed to play the big points well and eventually lost 3-6 6-3 6-2. Hopefully the boys will have more luck on the grass.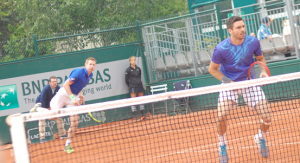 Jonny Marray and Colin Fleming